meet the people empowering innovators
Kavon Nasabzadeh became CEO of Ofinno in May 2023. Prior to his current role, he served as the Chief IP Officer at Ofinno, where he was responsible for all aspects of Ofinno's worldwide IP operations, including patent development and portfolio management. Kavon continues to help set the strategic direction of Ofinno's patent licensing and sales efforts. Prior to joining Ofinno, Kavon worked on patent prosecution and litigation matters at a leading IP law firm for over a decade. Kavon has a B.S. in Electrical and Computer Engineering from Lafayette College, an M.S. in Electrical Engineering from the University of Washington, and a J.D. from the George Washington University.
Esmael has more than twenty years of research and development experience with tech firms such as WorldCom, Bechtel Communications, Sprint, and Clearwire. He led research and development projects in areas of wireless and wireline networking technologies that included LTE-Advanced, Evolved Packet Core, 5G New Radio, 5G Core Networks, and Wi-Fi technologies. While leading and inspiring the Ofinno team, he never stops his own research — he has over two thousands granted or pending patent applications in his name. Esmael received his PhD in Electrical Engineering from George Mason University, Fairfax, Virginia in 2001.
Ali's primary research interests include 5G new radio and MIMO signal processing. Prior to joining Ofinno, he was a Research Fellow at the University of Oulu, Finland, the University of Edinburgh, UK, and the University of British Columbia, Vancouver/Canada. Formerly an industrial postdoctoral researcher at Sierra Wireless, Richmond/Canada, his industry experience includes internships at Mitsubishi Electric Research Labs, Cambridge/MA, and Broadcom Corporation, Irvine/CA. Ali has authored more than 50 publications in refereed international journals and conferences including more than 20 IEEE Transactions papers, and served on the Technical Program Committee for several major IEEE conferences. Ali holds a Ph.D. in Electrical Engineering from the University of California, Riverside. He earned his B.S and M.S. degrees in Telecommunications engineering from Sabanci University, Istanbul/Turkey.
A lawyer and an engineer, Phil joined Ofinno for the opportunity to work side-by-side with inventors during the patent process. He earned a degree in electrical engineering from Penn State and began his intellectual property career at the United States Patent & Trademark Office, where he examined patent applications in the field of electronic surgical endoscopes. While fulfilling his duties as a Primary Examiner, Phil earned a juris doctor from George Mason University with a concentration in legal & economic theory. Later, he worked in private practice at the law firm of Muncy, Geissler, Olds, & Lowe, drafting and prosecuting patent applications relating to wireless communication systems, satellite positioning, and optical data transmission devices. Before taking a role as Chief Intellectual Property Officer, Phil managed Ofinno's patent portfolio of core network technologies, including network slicing, internet of things, time-sensitive networking, satellite communication, and aerial vehicles.
As Ofinno's Operations Manager, Elizabeth is responsible for managing the Ofinno office, planning team events, and enhancing the workplace experience. Prior to joining Ofinno in 2021, Elizabeth served as Regional Community Ambassador for Mission BBQ where she oversaw grassroots marketing for the Northern VA region and led community outreach to veterans and first responders. Prior to Mission BBQ, Elizabeth was involved in development at a non-profit organization and regularly published a blog.
Elizabeth is also a mother to four wonderful children and enjoys reading, planning parties, and spending time with her friends and family.
Elizabeth holds a bachelor's degree in philosophy from Christendom College.
Alanna joined Ofinno as its People Operations Coordinator in 2022. As the People Operations Coordinator, Alanna helps lead Ofinno's recruitment and hiring efforts from sourcing potential candidates to managing employee onboardings. Prior to joining Ofinno, Alanna worked for the Virginia Department of Corrections. Alanna has a passion for supporting individuals through both positive and negative situations and is a reliable source for any Ofinno employees' needs or concerns.
Alanna received her B.S. in Psychology at Florida Southern College while playing NCAA Division II Lacrosse where her team advanced to the NCAA Division II National Championship in consecutive years.
At Ofinno, Chao focuses on the standards and technologies for video-based dynamic mesh coding, a coming standard of MPEG-I part 29. His research interests include image, video, point cloud and mesh compression. He received his Ph.D. degree in point cloud compression at Télécom SudParis, Institut Polytechnique de Paris, Évry, France. He has been participating and contributing to the moving picture experts group (MPEG) since 2018.
Willis manages the development and prosecution of Ofinno's patent portfolios in technologies related to video compression standards, including enhanced compression beyond VVC capability, geometry-based point cloud compression (GPCC), and video-based dynamic mesh coding (VDMC).
Before joining Ofinno, Willis worked at a leading IP boutique firm and later at a global IP litigation powerhouse. In addition to preparing and prosecution patent applications in computer related technologies, he also has experience in inter partes review and other litigation proceedings involving video compression standards, wireless network standards, and computer power management. Willis holds a BS in Electrical and Computer Engineering with a double major in Engineering and Public Policy as well as an MS in Electrical and Computer Engineering from Carnegie Mellon University.
SungDuck has participated in 3GPP standardization since 2003 for various working groups SA1, RAN2, SA2, SA3. He contributed to radio architecture/protocol design for HSxPA/LTE and system/service requirements definition for 5G. He served as rapporteur for various 3GPP work items, eV2X, MINT, EASNS and V2XIMP. He also participated in standardization for ETSI, 5GAA, and received best contributor award from 5GAA in 2018.
Prior to joining Ofinno, he held a chief research engineer position for standardization, and a manager position for business development at LG Electronics. He is an inventor in over 750 granted US patents. SungDuck focuses on research of system architecture and communication protocols for 5G and 6G.
He received his MBA degree from Sloan school of Massachusetts Institute of Technology, MA, USA. He received his BS degree in Electrical engineering from Seoul National University, Seoul, Korea.
Serhat is a Senior Technical Staff at Ofinno contributing to IEEE 802.11 standards. He has more than 15 years of experience in conducting research on PHY/MAC layer design of emerging communication systems. He has led research projects funded by research institutions including NSERC, ERC, TUBITAK and various industrial companies including ARGELA and Turk Telekom. He has co-authored more than 60 publications in leading international journals and conferences.
Prior to joining Ofinno, he has worked as a full-time tenured professor at Kadir Has University, Turkey. He holds a Ph.D. degree in Engineering Science from Simon Fraser University, Canada. He has earned his M.Sc. degree in Electrical and Computer Engineering from Ryerson University, Canada and his B.Sc. degree in Electrical and Electronics Engineering from Middle East Technical University, Turkey. He is a Marie Curie Fellow and a recipient of Governor General's Gold Medal.
Mohammad G. Khoshkholgh D. holds a Ph.D. from the University of British Columbia (UBC), Vancouver, Canada. Mohammad has authored 26 IEEE transactions papers and 22 IEEE conference papers. One of his journal papers was selected for IEEE ComSoc Best Readings on Cognitive Radio. In 2017, he was selected as Exemplary Reviewer IEEE Transactions on Wireless Communications. He was the holder of Vanier Canada Graduate from 2015 to 2018 and Four Year Fellowship from 2014 to 2015. His primary research interests include design and analysis of wireless communications systems, non-terrestrial networks, and machine learning and artificial intelligence.
At Ofinno, Stanislav is developing new technologies for RAN and CN. His current research interests are in the area of network automation, including self-organized networks, AI/ML, network energy saving, load balancing, mobility optimization, and RRM.
Stanislav has extensive experience of joining 3GPP RAN3, RAN, SA2, and SA1 standardization, as well as participation in IEEE, ETSI, and ITU-R.
Stanislav is IEEE Senior Member, holds PhD degree, has over 30 book chapters / journal papers, over 95 conference papers, over 50 patents, and over 600 contributions to standardization.
Since 2001, Peter has been preparing and prosecuting U.S. patent applications. At Ofinno, Peter is excited to continue his practice of obtaining high-value and high-quality intellectual property assets in high technology fields for a leader in research and development.
Brett serves as a Senior Patent Attorney at Ofinno on the 5G team. Prior to Ofinno, he was at a large general practice law firm where he drafted and prosecuted applications in diverse technologies and for a range of clients including top Fortune Global 100 corporations, research and development institutes, and start-up companies. He also worked as an engineer designing and testing electrical systems for rockets. Brett earned a JD from UNH Franklin Pierce School of Law and a BS in Electrical Engineering from Utah State University.
Kim is a patent paralegal in the Patent Legal Department at Ofinno. She earned her B.S in Leadership in Administration from Mid-Atlantic Christian University and later graduated from Regent University School of Law with a M.A. in Law and Business Administration. She formerly worked at Oblon, McClelland, Maier & Neustad as an Assistant Team Lead in their IP Operations Department. Kim has two cats and in her free time she enjoys reading, watching movies, and hanging out with her husband.
Chloe is currently a patent paralegal with Ofinno. Prior to joining Ofinno, Chloe worked at Oblon, McClelland, Maier & Neustadt, L.L.P. as a formalities specialist for U.S. National Phase filings. Chloe received her B.S. in Industrial/Organizational Psychology from George Mason University and her A.A.S in Paralegal Studies at Northern Virginia Community College. During her free-time she enjoys writing for an online fashion magazine, playing piano and exploring the DC Metro area with friends.
Sachin is a registered Patent Attorney, with an undergraduate degree in Physics from the University of Virginia, and a law degree from George Mason University. Sachin recently joined Ofinno after 10+ years in the law firm setting, where he counseled corporations, startups, and solo inventors in patent strategy and innovation. At Ofinno, Sachin leverages his IP counseling experience and deep technical knowledge to ensure that Ofinno's patent portfolios are robust and focused on solving the most important problems. Sachin is also an accomplished public speaker, songwriter, and yoga instructor.
Leonardo works as a Senior Technical Staff focusing on IEEE wireless LAN standards related technologies. His research interests include network analysis and optimization both in Physical and Medium Access Layers. He has authored several journals and conference papers on technologies such as Multi-user Beamforming, Multiple Input Multiple Output Schemes and Random access improvements for IEEE 802.11ac, IEEE 802.11ax, and IEEE 802.11be based WLAN.
Prior to joining Ofinno, Leonardo worked as an Assistant Professor in Kyushu Institute of Technology in Japan for 7 years where he also got a PhD in Computer Science and Systems Engineering.
As a senior technical staff in Ofinno, Huifa's research interests span 5G/6G physical layer technologies including NR-U, high frequency operation, AI/ML for air interface, and V2X. After receiving the B.E. degree in information engineering from the Beijing University of Posts and Telecommunications (China), he worked as a RAN optimization engineer at Motorola China for five years. Then he received the M.E. and Ph.D. degrees in information and communication engineering from The University of Electro-Communications (Japan). After that, he worked on 5G NR standardization and patents in Sharp Corporation for four years before joining Ofinno.
Jake serves as Ofinno's Senior IP Counsel and 5G Team Portfolio Manager as well as supports Ofinno's patent transaction efforts. Prior to joining Ofinno, he was a partner at an IP boutique law firm in the DC metro area.
Jake earned his JD and LLM in Intellectual Property from UNH Franklin Pierce School of Law. During law school, he was on law review and worked as a law clerk at the International Trade Commission (ITC) assisting investigative attorneys in Section 337 patent litigation. Jake holds two BS degrees from Virginia Tech and a MS in Electrical and Computer Engineering from Johns Hopkins University, where he focused on digital signal processing and communication systems.
Hua's research areas cover radio access network technologies/procedures for IEEE 802.16, LTE Advanced, LTE Advanced Pro, and New Radio for 5G. Prior to working for Ofinno, he held a research expert position at Fujitsu and participated in IEEE and 3GPP standardization activities. He is an inventor of more than 300 US patents on wireless communications. He received his Ph.D. in communication and information systems from Beijing University of Posts and Telecommunications.
A dual-qualified U.S. and European patent attorney, Yasser manages the development and prosecution of Ofinno's patent portfolio of IEEE-related technologies, including technologies related to the IEEE 802.11 family of standards.
Prior to joining Ofinno, Yasser worked in private practice at leading IP law firms in Paris, France and in Washington, DC, where he represented clients in a wide range of technologies in front of both the United States Patent & Trademark Office and the European Patent Office. He also served as in-house counsel of a wireless technology research and development company, where his responsibilities included multi-jurisdictional patent portfolio development and management as well as supporting the company's licensing program of standard-essential patents.
Yasser holds a BS in Electrical Engineering from the University of Iowa, a PhD in Electrical Engineering with a minor in Computer Science from Cornell University, and a JD from Georgetown University.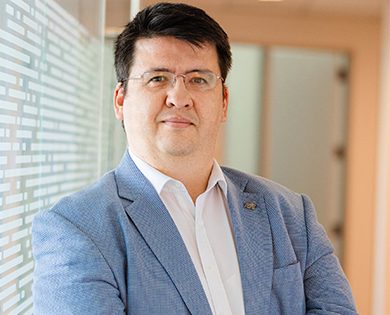 Tuncer Baykas is currently senior technical staff at Ofinno. He received his Ph.D. degree in electrical engineering from the University of Ottawa. He joined the National Institute of Information and Communications Technology, Japan, in 2007.
During his tenure, he contributed to multiple standardization projects, including IEEE 802.15.3c, IEEE 802.11ad, and IEEE 1900.7. He served as the Chair for IEEE 802.19.1 coexistence in the TVWS Task Group. Between 2012 and 2014, he worked as a postdoctoral researcher at Tohoku University, where he contributed the development of the IEEE 802.15.4k Low Energy Critical Infrastructure Management Standard. Between 2016 and 2019 he represented NICT in the International Telecommunication Union Radiocommunication Sector, and he was drafting group Chair of the 1A-3 and 5C-3 groups on WRC-19 agenda item 1.15.
In 2021, he joined Kadir Has University. He is currently serving as the IEEE Turkey Section Vice Chair, IEEE Comsoc Turkey Chapter Chair, IEEE Region 8 Standards Coordinator, Vice Chair of the 802.19 Working Group and the 802.11bb Light Communications Task Group, and a corresponding member of the IEEE TAB COS.
He has over 50 major journal and conference publications, and 3 U.S. and 37 Japanese patents. His research interests include THz communications, spectrum sharing, and radar signal processing. He was one of the recipients of the Turkish Academy of Sciences Young Researcher Award, the IEEE-SA Standards Board Award, and the IEEE-SA Certificate of Appreciation. He has served as a Guest Editor for IEEE Communications Magazine and a Board Member for IEEE Comsoc MMTC E-Letters.
Hsin-Hsi specializes in 5G/6G wireless communication and 3GPP standardizations. As a researcher and inventor, he holds over a hundred granted and pending patent families. His expertise encompasses the entire patent process, including idea conceptualization, patent writing, claim chart generation, and office action analysis, to the patent granted.
Prior to joining Ofinno, he held the position of Principal Engineer at a research lab (FG Innovation) of Foxconn, being a Research Lead on various 5G/6G topics and a 3GPP delegate in RAN2, RAN1, and RAN Plenary meetings. He was distinguished with the Top 10 inventors Award from Foxconn. Before his tenure at Foxconn, he served as a Senior Engineer at ASUS and represented the company as a RAN2 delegate. With extensive experience in 3GPP, he has contributed over a hundred 3GPP technical papers.
In addition to his industry experience, he has made an impact in the academic sphere. He has been invited as the reviewer of dozens of journal and conference papers, showcasing his commitment to advancing wireless communication technology.
In addition to managing foreign prosecution at Ofinno, Ericka assists with social media, marketing, public relations, and accounting. A native of New Jersey, she received her BA in Political Science and Public Policy from The George Washington University here in Washington, DC, and studied law at the University of Westminster in London, England. During her free time, you can find her playing board games with her husband, hanging out with her dog, or working on a new creative project.
Kyungmin focuses on research and development of radio access network procedures for 5G, 6G, and LTE. Prior to joining Ofinno, he held a senior research position at LG Electronics and participated in 3GPP standardization activities. Kyungmin is an inventor in over five hundred granted or pending US patent applications. He received his Ph.D. in Electrical and Electronic Engineering from Yonsei University, Seoul, South Korea in 2011.
At Ofinno, Jiayi focuses on the standards and technologies for next-generation Wi-Fi systems. His research interests rely on air-interface algorithms and protocols designed for wireless standards, such as IEEE 802.11 Wireless Local Area Networks and 3GPP LTE-Advanced/5G New Radio. Prior to joining Ofinno, he was a guest researcher/associate in radio access and propagation affiliated with the National Institute of Standards and Technology in Gaithersburg, MD, and before that a research scientist in wireless access with Alcatel-Lucent Bell Labs in Shanghai. Jiayi received his PhD degree in Electronics and Electrical Engineering from the University of Southampton, England, in 2012. He is a senior member of the IEEE and a voting member of IEEE 802.11 Working Group for WLAN standards. He has served on the technical program committee of major IEEE ComSoc/VTS conferences.
Gautham's research interests include 5G/6G terrestrial and non-terrestrial communications and applications of AI/ML to communication networks. Prior to joining Ofinno, Gautham was an industrial postdoctoral research fellow at The University of British Columbia, Vancouver, BC and Sierra Wireless, Richmond, BC. He has authored dozens of publications in peer-reviewed IEEE journals, conferences, and workshops, including papers that have won multiple IEEE best paper awards. Gautham has also served as an invited reviewer for over 100 journal and conference paper submissions and on the technical program committees of various major IEEE conferences. He holds a PhD from The University of British Columbia, Vancouver, BC, and an MS from the University of Florida, Gainesville, FL, both in electrical and computer engineering.
Garrison is a registered U.S. Patent Attorney and serves as a Senior Patent Attorney at Ofinno in the Video Compression team.
Prior to joining Ofinno, Garrison was a Patent Examiner with the USPTO in the Business Methods – Banking/Finance/Insurance art area. He also worked as an attorney at a boutique law firm in the Seattle, WA area, handling civil litigation matters and building the firm's intellectual property practice (Trademarks, Patents, Copyright and Licensing).
Garrison earned a J.D. and a Master of Engineering (M.Eng.) in Computer Science & Engineering from Washington University in St. Louis. He also has a B.A. in Business Administration - Information Systems from the University of Washington.
Nazanin joined Ofinno as a wireless specialist immediately after she received her PhD in Electrical Engineering from George Mason University in 2018. In 2015, she was as an Intern with Bell Labs, Stuttgart, Germany, contributing to beyond 100G optical transmission systems. She has 17 patent applications and about 10 published international papers, covering topics on PHY and MAC layer developments of wireless technologies and radio access protocols, with an emphasis on channel access and procedures in unlicensed spectrum, including LTE-U, 5G NR, and NR-U.
As the Principal Scientist/Researcher on Ofinno's Video Compression team, Damian primarily works on video compression standards as VVC, HEVC, and AV1, focusing on intra prediction optimization, screen content coding algorithms, and computational complexity reduction using Machine Learning models. Damian is an author of over 30 journals and conference papers in the field of image and video compression and five patent or provisional patents.
Before joining Ofinno, he was a professor at the Signal Processing department of the Universidad Rey Juan Carlos, and a researcher at research labs from Polytechnic University of Valencia and Polytechnic University of Madrid, Spain. He was invited to research stay at the Florida Atlantic University (FAU), Florida, U.S. Damian has also directed more than 10 Bachelor and Ph.D. Thesis and was Principal Investigator in six competitive R&D projects of both private and public funding. In his stage in the industry, he was a member of international technical committees at the DVB (Digital Video Broadcasting), the EBU (European Broadcasting Union), and the DigiTAG (Digital Terrestrial Television Action Group).
Damian holds a B.S. and M.S. in Telecommunications from the Polytechnic University of Madrid in Spain and a Ph.D. in Technology information from the Castilla La-Mancha University.
Prior to joining Ofinno, Peyman worked with Ericsson Research in Montreal, Canada and the Huawei Research and Innovation Center in Santa Clara. He has served as a technical committee member and reviewer for ACM, IEEE, Elsevier, Springer, and other journals, as well as published and presented his own research at international conferences and in journals. Peyman has mentored and supervised students at the undergraduate, Masters and PhD levels. Peyman received his PhD and MASc in Electrical and Computer Engineering Department at the University of British Columbia (UBC), Vancouver, and his BEng from Carleton University in Ottawa, with high distinction and receiving the Senate Medal for high academic achievements.
Satomi is a docketing paralegal with seven years of experience in the field. Before joining Ofinno, Satomi worked at the Embassy of Japan in Washington DC and at an IP firm in Reston, Virginia. Satomi received her BA in Linguistics from Kobe City University of Foreign Studies in Japan.